学术带头人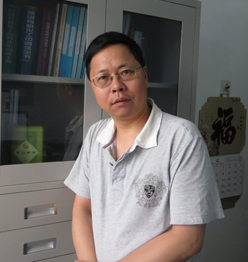 尹国川 楚天学者特聘教授,博士生导师
化学化工学院
华中科技大学
电话: 86-15997442682
E-mail: gyin@hust.edu.cn
研究方向
催化化学中的催化氧化领域,包括阐明催化氧化中的基本科学问题如氧化过程中各活性物种间的氧化性能关系及添加助剂如何影响氧化催化剂的反应性能、发展新的催化技术应用于有机废水的治理与利用、从生物资源中获取石油化工的替代品以及实际的工业催化应用等。
教育背景
1986-1990 学士学位,浙江大学化学系
1992-1995 硕士学位,中国科学院大连化学物理研究所
1995-1998 博士学位,中国科学院大连化学物理研究所(导师:奚祖威研究员)
工作经历
2008- 华中科技大学化学化工学院教授
2001-2007 美国堪萨斯大学环境友好催化中心博士后
1999-2001 日本学术振兴会研究员(JSPS),日本九州大学
1998-1999 南京大学化学化工学院教师
1990-1992 四川省芒硝矿助理工程师
基金
1. 国家自然科学基金:"高价态过渡金属氧与氢氧物种在氧化过程中的立体选择性差异及相关问题", 2010-2012 (No. 20973069);
2. 国家自然科学基金:"含刚性交叉桥联大环配体钌配合物的合成及在氧化基础研究中的应用", 2013-2016 (No. 21273086).
3. 国家自然科学基金:"基于路易斯酸提升过渡金属活化C-H键能力的催化剂设计与应用",2016-2019(No. 21573082).
国际邀请报告:
1. The International Conference on Hydrogen Atom Transfer, Rome,Italy, 2014.6.22-26;
2. The 2015 Metals in Biology Gordon Research Conferences,Ventura,California,USA, 2015.1. 25-30;
3. The 48th General Assembly Meeting of the International Union of Pure and Applied Chemistry (IUPAC-2015), August, 2015, Busan, Korea;
4. ChemComm Symposia on Molecular Design and Analysis, August, 2015, Korea;
5. The International Chemical Congress of Pacific Basin Societies (PacifiChem-2015), December, 2015, Hawaii, USA .
6. The 9th International Conference on Porphyrins and Phthalocyanines (ICPP-9), July, 2016, Nanjing.

代表性论文
1. Shuhao Qin, Lei Dong, Zhuqi Chen, Sicheng Zhang and Guochuan Yin*,Non-redox metal ions can promote Wacker-type oxidations even better than copper(II) : a new opportunity in catalyst design, Dalton Trans. , 2015, 44, 17508-17515.
2. Zhuqi Chen and Yin, Guochuan*, The reactivity of the active metal oxo and hydroxo intermediates and its implications in oxidations, Chem. Soc. Rev., 2015, 44 (5), 1083-1100.
3. Zhuqi Chen, Ling Yang, Cholho Choe, Zhanao Lv, Guochuan Yin*, Non-redox Metal Ions Promoted Oxygen Transfer by a Non-heme Manganese Catalyst, Chem. Commun., 2015, 51, 1874-1877.
4. Guochuan Yin*,Understanding the oxidative relationships of the metal oxo, hydroxo and hydroperoxide intermediates with manganese(IV) complex having bridged cyclam: Correlation of the physicochemical Ppoperties with reactivity, Acc. Chem. Res., 2013, 46, 483-492.
5. Zhou, Li; Song, Wei; Chen, Zhuqi; Guochuan Yin*,Degradation of organic pollutants in wastewater by bicarbonate-activated hydrogen peroxide with a supported cobalt catalyst, Environ. Sci. & Technol., 2013, 47, 3833-3839.
6. Huajun Guo, Guochuan Yin*, Catalytic aerobic oxidation of renewable furfural with phosphomolybdic acid catalyst: An alternative route to maleic acid, J. Phys. Chem., C, 2011, 115, 17516-17522.
7. Song Shi, Yujuan Wang, Aihua Xu, Huajun Wang, Dajian Zhu, Suparna Baksi Roy, Timothy A. Jackson, Daryle H Busch, Guochuan Yin*, Distinct reactivity differences of metal oxo and its corresponding hydroxo moieties in oxidations: Implications from a manganese(IV) complex having dihydroxide ligand, Angew, Chem. Intl. Ed. 2011, 50, 7321-7324.
8. Guochuan Yin*, Active transition metal oxo and hydroxo moieties in nature's redox enzymes and their synthetic models: Structure and reactivity relationships, Coord. Chem. Rev., 2010, 254, 1826-1842.
9. Guochuan Yin, Andrew M. Danby, David Kitko, John D. Carter, William M. Scheper and Daryle H. Busch, Oxidative reactivity difference between the metal oxo and metal hydroxo moieties: pH dependent hydrogen abstraction by a manganese(IV) complex having two hydroxide ligands, J. Am. Chem. Soc., 2008, 130,16245-16253.
10. Guochuan Yin, Andrew M. Danby, David Kitko, John Carter, William M. Scheper and Daryle H. Busch, Understanding the Selectivity of a Moderate Oxidation Catalyst:Hydrogen Abstraction by a Fully Characterized, Activated Catalyst, the Robust Dihydroxo Manganese (IV) Complex of a Bridged Cyclam, J. Am. Chem. Soc., 2007, 129, 1512-1513.
11. Guochuan Yin, Maria Buchalova, Andrew M Danby, Chris M Perkins, David Kitko, John D Carter, William M Scheper, Daryle H Busch, Olefin oxygenation by the hydroperoxide adduct of a nonheme manganese(IV) complex: Epoxidations by a metallo-peracid produces gentle selective oxidations, J. Am. Chem. Soc., 2005, 127, 17170-17171.
专利
1. 尹国川,兰纪红,陈朱琦,"一种从糠醛选择氧化制备马来酸酐的方法", 中国专利号:ZL 2014 1 0103972.3
2. 尹国川,周莉,宋威,陈朱琦,"碳酸氢盐活化负载型金属催化剂氧化处理有机废水的方法",中国专利号:ZL 2012 1 0380005. 2.
3. 尹国川,徐爱华,熊辉,"一种活化双氧水氧化降解废水有机污染物的方法",中国专利号:ZL 2009 1 0061122.0.
专著
Daryle H. Busch, Guochuan Yin, and Hyun-Jin Lee, "Lewis acid catalyzed epoxidation of olefins using hydrogen peroxide: Growing prominence and expanding range" in Mechanisms in Homogeneous and Heterogeneous Catalytic Epoxidation, Ted Oyama Ed. Elsevier, 2008, 119-153.